Veterans' Week 2013, November 5 to 11 – How Will You Remember?
During this week, hundreds of commemorative ceremonies and events will take place across the country to recognize the achievements of our Veterans and honour those who made the ultimate sacrifice.
For more information please visit the Veterans Affairs Canada website.
2013 Remembrance Day Ceremony at UBC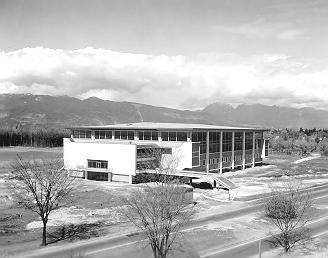 Since the opening of the War Memorial Gym in 1951, The University of British Columbia has held a ceremony commemorating November 11. This year, 2013 will mark sixty-two years that The University of British Columbia has hosted a Remembrance Day ceremony. This special ceremony is an opportunity for faculty, staff, students and members of the on and off-campus community to honour and remember all those who served in times of war, military conflict and peace.
This year, the Remembrance Day ceremony at UBC will be held on Monday, November 11 in the War Memorial Gym. Everyone is welcome to attend this annual ceremony – doors open at 10:00 a.m. The ceremony will commence at 10:45 a.m. and will last for approximately one hour. Light refreshments will be served after the ceremony and all are welcome to stay.
The program for this year will include short readings and remarks plus music provided by the UBC Men's Choir and the Pacific Spirit Brass from the UBC School of Music.
Platform Party
Members of the platform party include:
Ms. Joyce Murray, MP, Vancouver Quadra, The Parliament of Canada
Mr. David Eby, MLA, Vancouver-Point Grey, Legislative Assembly of British Columbia
Associate Pastor Sandeep Jadhav, University Chapel
Dr. Pascal Spothelfer, VP, Communications and Community Partnership, UBC
Captain Ben Pong, Canadian Armed Forces (Reserve) and UBC Staff member, UBC Computer Shop
Prof. Nancy Hermiston, University Marshal and Director, Opera Ensemble, UBC School of Music, UBC
Ms. Caroline Wong, President, Alma Mater Society – UBC Vancouver
Participating Community Organizations
During the ceremony, wreaths will be laid by or on behalf of the following organizations, all with connections to UBC:
The Parliament of Canada
Legislative Assembly of British Columbia, MLA, Vancouver-Point Grey
University Naval Training Division
UBC Contingent Canadian Officers' Training Corps
Reserve University Squadron, R.C.A.F.
12 Field Ambulance Royal Canadian Medical Service
196th Western University Battalion Association
Royal Canadian Legion — Branch #142
National Aboriginal Veterans Association
Sir Arthur Pearson Association of War Blinded
Royal United Services Institute of Vancouver
The University of British Columbia
The Association of Administrative and Professional Staff at UBC
UBC Alma Mater Society of UBC Vancouver
Phi Gamma Delta Fraternity
UBC Sororities
RCMP – University Detachment
St. John Ambulance – Division 998 UBC
Girl Guides of Canada – Mackenzie Heights District
Scouts Canada – 24th UBC
Scouts Canada – 25th Pacific Spirit Area
Parking
Free parking is available up to 1:00 pm on November 11 in the General Services and Administration Building (GSAB) lot beside the War Memorial Gym and at the meters on Wesbrook Drive (from University Boulevard north to the Bus Loop).
Parking is also available in the North Parkade at a cost of $7.50 for the day (coins or credit cards).
Visit www.maps.ubc.ca for maps and directions.
Further Information
For further information regarding the Remembrance Day Ceremony at UBC, please contact the UBC Ceremonies Office at 604.822.2484 or ceremonies.office@ubc.ca.